Animator

Transparency
Yes
Luminance
No
Blast Resistance
10.0
Tool
Any Pickaxe
Renewable
No
Stackable
Yes (64)
Flammable
No
Compostable
No
ID
animator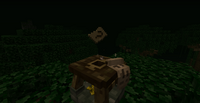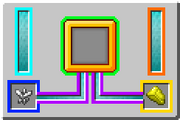 The Animator is a craftable utility block that "animates" items into new or restored forms.
How to Use
Edit
The animation interface can be accessed by right-clicking the Animator. Animating requires the following items:
An adequately charged Life Crystal, which is placed in the

left-most slot

of the interface. The amount of charge required depends on the recipe.
A varying amount of Sulfur, which is placed in the

right-most slot

. The amount of Sulfur required depends on the recipe.
The item that is to be animated, which is placed in the

middle slot

.
Once these requirements are met, the Animator will begin consuming the Sulfur necessary for the particular animation recipe. Each Sulfur item takes about 2 seconds to be consumed, meaning that the amount of time an item takes to be animated depends on the amount of Sulfur it requires.
The Life Crystal and Sulfur slots each have a corresponding bar in the interface which shows how much charge is left in the Life Crystal and how much time before the next Sulfur item will be consumed, respectively. The portion of Life Crystal charge that will be consumed at the end of the animation process will also flash red in the crystal charge bar. Smaller bars also connect the left and right slots to the middle one, and fill based on how much time is left before the process is complete.
Depending on what is being animated, an item or entity will be rendered hovering above the Animator (if it is an entity, it will be translucent and will always turn to face the player). The Sulfur and Life Crystal in the Animator will also render in its bottom portion. While animating, white runes will float from the scroll on the Animator to the hovering object, and some steam particles will emanate from the bottom Sulfur. An animation sound will also play.
If the animation process is canceled midway, the Life Crystal's charge will not have been drained, but the Sulfur that has already been consumed by the process is lost. If an inadequate amount of Sulfur is used in the animation process, the Sulfur will still be consumed, but the animation process will not complete.
Once the animation process is complete, the Life Crystal will be drained the appropriate amount of charge. If the result is an item, it can be retrieved from the same middle slot of the interface that the original item was placed in. If it is an entity, it will be spawned directly on top of the Animator.
Animating Recipes
Edit
To view all default animating recipes, visit the Animating page.
You can add your own animating recipes in the recipes.json in the config.
animator: