Aspectrus Seeds

Transparency
No
Luminance
No
Blast Resistance
0.0
Tool
None
Renewable
Yes
Stackable
Yes (64)
Flammable
No
Compostable
No
ID
aspectrus_crop
aspectrus_seeds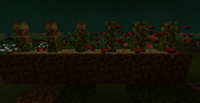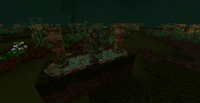 Aspectrus Seeds are seed items that can be found as Loot from pots in Caverns, Lake Caverns, Ruins, Underground Ruins, Tar Pool Dungeons, Cragrock Towers, and the Wight Fortress. They also drop rarely from Root Sprites.
Aspectrus Seeds can be planted in Dug Swamp Dirt, Dug Swamp Grass, Dug Purified Swamp Dirt, or Dug Purified Swamp Grass that has been fertilized with Compost and is directly below a Rubber Tree Plank Fence (up to 3 fences high). The seeds grow into an Aspectrus Plant crop that will produce Aspectrus Fruit harnessing an Aspect of the player's choice.
An Aspectrus Plant will not grow until it has been applied an aspect to take on. This can be done by right-clicking the idle plant with an Aspect Vial that has the aspect you wish to farm. From then on, it will grow over time up the fence until ready to be harvested. Its growth can be augmented with Ground Dried Swamp Reed. The bulb of the plant will eventually take on a color and glow correlating to its applied aspect. If the plant is fully grown, it can then extend to any fence that is above the first fence block; it can grow up to three blocks on this fence pole.
When harvested at full maturity, the plant will drop Aspectrus Fruit and more seeds, both imbued with the aspect that was farmed. The amount of aspect in each harvested fruit is approximately half of the value of the Aspect Vial or Aspectrus Seeds used to grow the Aspectrus Plant it was harvested from. The amount of aspect in each harvested seed item is the same as the previous Aspect Vial or Aspectrus Seeds amount, but subtracted by approximately 0.18; this subtraction will also still occur if the plant is destroyed before full maturity.
However, an Aspectrus Plant's growth will halt if the composted block it is growing on becomes decayed. If the plant is mature when this happens, it will decay as well, dropping nothing but seeds, which will still be subtracted from their initial aspect amount.
Aspectrus Seeds imbued with an Aspect from earlier Aspectrus Plant harvests can be planted again to immediately grow that same aspect from the plant. However, the decimal amount of the Aspect in the seeds that drop from these new plants will continue being subtracted of aspect value, and subsequently, the aspect value of the fruit dropped will be halved from this subtracted amount, not the initial aspect vial amount. Over generations, the seeds will eventually become empty of aspect value again.
Release 3.4.0: Now drop from Root Sprites.
Alpha 3.2.0:

Increased seed loot drop rate.
Reduced plant fertilizer effectiveness.

Alpha 3.0.0:

Crop and functionality of seeds reintroduced.
Aspectrus Plant bulbs now glow.

Beta 2.0.0: Crop and functionality of seeds temporarily removed.
Beta 1.0.0: Introduced.