Betweenlands Bedrock

Transparency
No
Luminance
No
Blast Resistance
18000000.0
Tool
None
Renewable
No
Stackable
Yes (64)
Flammable
No
Compostable
No
ID
betweenlands_bedrock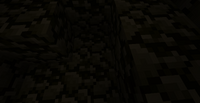 Betweenlands Bedrock is a block that generates in a layer at the very bottom of The Betweenlands.
Indestructability
Edit
Betweenlands Bedrock acts as The Betweenlands dimension's equivalent to vanilla Bedrock, shielding it from the Void. It cannot be broken, moved, or collected in any way by players in Survival Mode, nor can it be destroyed by explosions.