Betweenstone

Transparency
No
Luminance
No
Blast Resistance
30.0
Tool
Any Pickaxe
Renewable
No
Stackable
Yes (64)
Flammable
No
Compostable
No
ID
betweenstone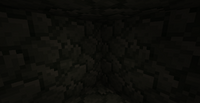 Betweenstone is the primary stone block of The Betweenlands, generating abundantly underground in the upper Cavern layer. It also drops from Boulder Sprites, and can be found as part of Underground Oases, Tar Pool Dungeons, and the Wight Fortress.
Plant Support
Edit
Betweenstone supports the placement and growth of Cave Grass and Cave Moss.
Release 3.4.0: Now drops from Boulder Sprites.
Beta 1.0.0: Introduced.