Block of Octine

Transparency
No
Luminance
Yes
Blast Resistance
30.0
Tool
Any Pickaxe
Renewable
No
Stackable
Yes (64)
Flammable
No
Compostable
No
ID
octine_block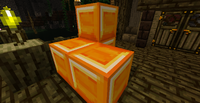 Blocks of Octine are craftable storage blocks for Octine Ingots. In addition to being crafted, they can also be found as part of Idol Head Statues and a secret room in the Wight Fortress.
Igniting
Edit
Placed Moss, Cave Moss, and Thorns that are adjacent to or on a Block of Octine will catch fire instantly.
Release 3.3.0: Now gives off light and burns certain plants.
Beta 2.0.0: Renamed to Block of Octine.
Beta 1.0.0: Introduced as Octine Block.