Bulb-Capped Mushroom Stalk

Transparency
No
Luminance
Yes
Blast Resistance
1.0
Tool
Hand or Axe
Renewable
No
Stackable
Yes (64)
Flammable
No
Compostable
No
ID
bulb_capped_mushroom_stalk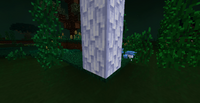 Bulb-Capped Mushroom Stalk is the stalk block of Giant Bulb-Capped Mushrooms.
Collection
Edit
When harvested normally, Bulb-Capped Mushroom Stalks usually drop nothing, but have a chance to drop a Bulb-Capped Mushrooms item, which can then be ground into Ground Bulb-Capped Mushroom.
Bulb-Capped Mushroom Stalks themselves must be harvested with a Silk Touch tool to be collected.
Bulb-Capped Mushroom Stalks can be used as fuel for the Sulfur Furnace or Dual Sulfur Furnace, smelting 1.5 items per cap block.
Beta 2.0.0: No longer has an alternate bottom texture.
Beta 1.0.0: Introduced.