Compost Bin

Transparency
Yes
Luminance
No
Blast Resistance
15.0
Tool
Hand or Axe
Renewable
Yes
Stackable
Yes (64)
Flammable
No
Compostable
No
ID
compost_bin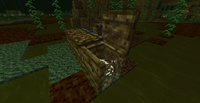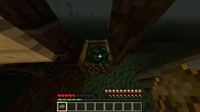 The Compost Bin is a craftable utility block that converts certain items into Compost, an item essential for Farming.
The Compost Bin can be opened and closed by left-clicking. While open, it can be right-clicked with compostable items to put them inside. The number of items that can be put in is limited, depending on the compost amount value of the items, but the items put inside do not all have to be the same. If a player attempts to put non-compostable items in the Compost Bin, the message "This item is not compostable" will be displayed. When the Compost Bin is full, it will not accept any more items, instead displaying the message, "The compost bin is full."
Once items are put inside of a Compost Bin and it is closed, the items will begin composting. This process is indicated by the green particles that emanate from the items rendered inside the Compost Bin while it is functioning. The items inside will take a varying amount of time to finish composting, depending on the item types; if there are multiple items inside with different time values, they will finish independently of each other.
If the Compost Bin is destroyed while composting, items that have not finished composting will be recovered, but any finished compost inside the bin will be lost.
When finished composting, the items inside the Compost Bin will convert to a layer of compost that can now be collected. To do so, simply left click the Compost Bin to open it again, and right-click it with a non-compostable item (or an empty hand) to collect one Compost item from inside. Each compostable item type has an amount value that determines the number of Compost items that can be obtained from it; this means the amount of Compost you get from a bin depends on what items you put in it originally.
The following is a list of all blocks and items that can be turned into Compost, the amount of time they take to compost, and the compost amount value they add to the Compost Bin. One Compost item is produced for every 25 points reached, calculated by the total items inside the bin within "ranges." This means having a total value between 1 and 25 will produce one Compost, between 26 and 50 will produce two Compost, and so on.
One Compost Bin can hold a maximum of 20 items at a time, but will also stop accepting items if the total amount value of the items inside reaches or exceeds 400.

You can add your own compostable items in the recipes.json in the config.
The Compost Bin can be used as fuel for the Sulfur Furnace or Dual Sulfur Furnace, smelting 1.5 items per bin block.
Release 3.3.6:

Now opened by left-clicking.
Readded composting particles.

Beta 1.0.0: Introduced.
Community content is available under
CC-BY-SA
unless otherwise noted.