Damp Torch

Transparency
Yes
Luminance
No
Blast Resistance
0.0
Tool
None
Renewable
Yes
Stackable
Yes (64)
Flammable
No
Compostable
No
ID
damp_torch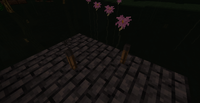 Any non-Betweenlands Torch that is placed in The Betweenlands fizzles out and become a Damp Torch, which provides no light. This encourages the use of Sulfur Torches in the dimension.
Placement
Edit
Damp Torches can only be placed on the top and side of most blocks. Breaking the block a Damp Torch is sitting on will cause the torch to break as well.
| Result | Ingredients | Recipe |
| --- | --- | --- |
| Torch | Damp Torch + Any fuel | |
Release 3.3.7: Added more configuration entries.
Beta 1.0.0: Introduced.