Dentrothyst Vials

Transparency
Yes
Luminance
No
Blast Resistance
2.0
Tool
None
Renewable
No
Stackable
Yes (64)
Flammable
No
Compostable
No
ID
dentrothyst_vial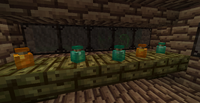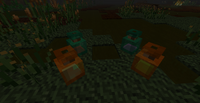 Dentrothyst Vials are craftable items used for carrying Infusions and Aspect Vials. There are two varieties - Green and Orange.
Collection
Edit
Both types of Dentrothyst Vial can be used to collect a distilled Infusion or Aspect Vial/s by right-clicking the vial on an Alembic with the finished combination.
Infusion Use
Edit
Green Dentrothyst Vials become Dirty Dentrothyst Vials after directly consuming any Infusion they were carrying. These vials must be cleaned in the Purifier in order to return them to their clean status and to be reused for collection.
Orange Dentrothyst Vials simply become empty vials when consumed normally, and do not have to be cleaned before reuse.
Placement
Edit
Clean Dentrothyst Vials can be placed on the ground with a shift right-click. Placed vials can be filled by right-clicking them with Aspect Vials; each click transfers approximately 0.1 of the item vial's amount into the placed vial, and each vial can store up to 5.0 of the same aspect. Similarly, filled vials can be sneak-right clicked with empty Dentrothyst Vials to take approximately 0.1 of the aspect from the placed vial into the item vial, and the empty vial is left behind if it is completely emptied. These vials can be broken and collected again, retaining the amount of the aspect that was placed inside.
Placed Dentrothyst Vials have a random position offset, which can be toggled on and off by shift right-clicking the placed vial with an empty hand.