Dentrothysts

Transparency
Yes
Luminance
No
Blast Resistance
30.0
Tool
Any Pickaxe
Renewable
No
Stackable
Yes (64)
Flammable
No
Compostable
No
ID
dentrothyst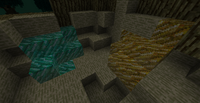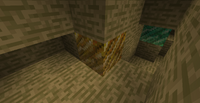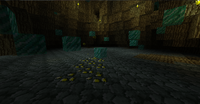 Dentrothysts are unique amber-like blocks that can be found uncommonly in scattered 1-3 block veins within the trunks of Giant Weedwood Trees, including Stumps. There are two varieties - a more common Green Dentrothyst, and a rarer Orange Dentrothyst.
Collection
Edit
When harvested normally, Dentrothysts drop 4 Dentrothyst Shards of their corresponding type. The blocks themselves must be harvested with a Silk Touch tool to be collected directly.
The word 'Dentrothyst' is a portmanteau of the words 'dendrite' (crystal with a treelike structure) and 'amethyst' (a gem).
Release 3.4.0: Now drop Dentrothyst Shards and can be crafted from them.
Beta 1.0.0: Introduced.