Not to be confused with the Sulfur Furnace, the regular version of this block.
Dual Sulfur Furnace

Transparency
Yes
Luminance
Yes (While active)
Blast Resistance
17.5
Tool
Any Pickaxe
Renewable
Yes
Stackable
Yes (64)
Flammable
No
Compostable
No
ID
sulfur_furnace_dual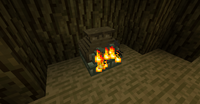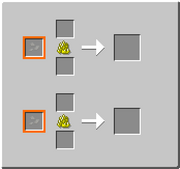 The Dual Sulfur Furnace is a craftable utility block that acts functionally very similarly to the Sulfur Furnace, but is capable of smelting two items at once.
How to Use
Edit
The smelting interface can be accessed by right-clicking the Dual Sulfur Furnace. Smelting works nearly identically to smelting in a vanilla Furnace, featuring the usual input, fuel, and output slots to cook or process items into new ones. However, the fuel sources that are used will likely be different when working in the Betweenlands.
The difference between a regular Sulfur Furnace and a Dual Sulfur Furnace is that the Dual one has two slots for inputs, fuels, and outputs. This means that it is capable of smelting two different items at once, acting as two Sulfur Furnaces but only taking up one block space.
The following is a list of all items from the Betweenlands that can be used as fuel in a Dual Sulfur Furnace, as well as the number of items each is capable of smelting before running out.
While smelting, the Dual Sulfur Furnace will emit light and produce fire, as well as make a crackling fire sound.
In addition, there are new, optional left slots in the Dual Sulfur Furnace interface. These slots are capable of accepting Limestone Flux and give Octine Ore and Syrmorite Ore smelted in their part of the furnace a chance to yield two ingots instead of just one. One Limestone Flux item will always be consumed from this slot whenever the ore is smelted, and the duplication will not work with any other smelted items.
Smelting Recipes
Edit
To view all default smelting recipes, visit the Smelting page.
Advancement
In-game Description
Parent
Actual Requirements
ID

Efficiency
Create a Dual Sulfur Furnace
All Over Again
Have a Dual Sulfur Furnace in your inventory
craftsman
/efficiency

Freebies
Obtain extra ingots using Limestone Flux
Efficiency
Put Limestone Flux in either optional left slot of a Dual Sulfur Furnace
craftsman
/freebies
Community content is available under
CC-BY-SA
unless otherwise noted.