Not to be confused with the Harlequin Toad, the larger mountable cousin of this critter.
Frogs are passive mobs that are intended primarily to add more life and atmosphere into The Betweenlands. They spawn in Swamplands, Patchy Islands, and Coarse Islands biomes.
Description
Edit
Frogs appear as tiny amphibians with different variations and breathing animations. Being passive, they do not attack the player, and their only movement on land is the occasional hopping in one direction. In water, they stay at an elevation right below the water's surface and swim in quick, consistent bursts to move.
Variations
Edit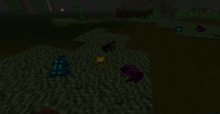 Frogs have five different variants that they can spawn as: green, blue, yellowish, purple, and black with yellow spots. For the most part these variations are aesthetic; However, the black, yellow-spotted variation will emit green particles to show that it is poisonous. Above Easy difficulty, this variety will inflict the Poison I (
) effect if the player collides with them (for 5 seconds on Normal difficulty and 10 seconds on Hard difficulty), although the frog itself does not specifically target the player to inflict this upon them. This is also the only frog variety that can drop Poison Glands.
FrogDeath: