Greebling

Health
20 ()
Damage
N/A
Drops
Nothing
Experience
0
ID
greebling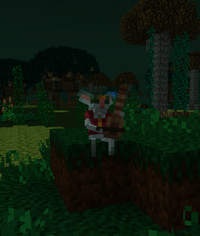 Greeblings are elusive mobs that can be found uncommonly anywhere on the surface of The Betweenlands.
A shy creature, the Greebling can only be found by following the lilting sound of their music. The gremlin's music is best enjoyed from a distance, however, as disturbing the Greebling will make him disappear.
Upon entering the range of a Greebling, ambient music will be stopped in favor of the Greebling's own music. Greeblings can spawn in two variants; one with brown clothes and a pan flute, and the other with red clothes and some kind of string instrument. Both variants have their own sound, and will play in tandem with each other. Music from Greeblings of the same variant will not overlap.
Community content is available under
CC-BY-SA
unless otherwise noted.