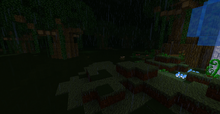 Heavy Rain is a weather event in the Betweenlands. Every once in a while, it will rain very heavily in the dimension. This rain has the same effect as it does in the Overworld. In addition, it will cause Puddles to generate in large masses on opaque blocks exposed to the sky. These puddles have the ability to destroy crops, so it is advised to cover farmland to prevent puddles from generating on farmland.
Structures that seem to be made of mud tile will spawn. These structures will spawn Sludge Worms when a player comes near and disappear when the event ends. In addition, the player's visibility will be reduced by a thick fog.
Heavy Rain can be manually triggered using the following command: /blevent <toggle/on/off> thebetweenlands:heavy_rain
Community content is available under
CC-BY-SA
unless otherwise noted.