Map Icon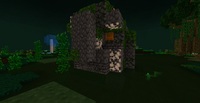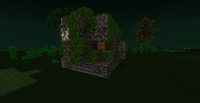 "When I found that giant stone head, I thought I had already stumbled upon an ancient idol relic."
Idol Head Statues are structures that generate uncommonly in Patchy Islands biomes. They are giant, ruined statue heads shaped like idols, and come in three visual variants. Each contains a single chest with loot.
Idol Head Statues have a world location that identifies the area they take up.
Idol Head Statues consist of:
The Chest inside an Idol Head Statue uses idol_heads_chest as its loot table.
Advancement
In-game Description
Parent
Actual Requirements
ID

Idolised
Discover an Idol Head
Dank World
Enter the world location of an Idol Head Statue
adventurer
/idolised
Beta 3.5.0: Chest loot table changed from common_chest_loot to idol_heads_chest.
Release 3.4.0: Now appears on Amate Maps with an icon.
Release 3.3.0:

Implemented world location.
Added Advancement.

Beta 2.0.0: Composition largely changed to be more ruined.
Beta 1.0.0: Introduced.
Community content is available under
CC-BY-SA
unless otherwise noted.