Limestone Bricks

Transparency
No
Luminance
No
Blast Resistance
30.0
Tool
Any Pickaxe
Renewable
No
Stackable
Yes (64)
Flammable
No
Compostable
No
ID
limestone_bricks
mossy_limestone
_bricks
cracked_limestone
_bricks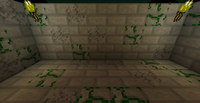 Limestone Bricks are craftable building blocks. They have a normal variant, a Mossy variant, and a Cracked variant.
Alpha 3.0.0: Reintroduced Mossy and Cracked variants, with recipes.
Beta 2.0.0: Temporarily removed Mossy and Cracked variants.
Beta 1.0.0: Introduced.