Middle Gem Ores

Transparency
No
Luminance
Yes
Blast Resistance
30.0
Tool
Bone Pickaxe
or better
Renewable
No
Stackable
Yes (64)
Flammable
No
Compostable
No
ID
aqua_middle
_gem_ore
crimson_middle
_gem_ore
green_middle
_gem_ore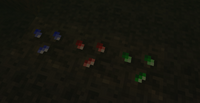 Middle Gem Ores are special ores that generate rarely underwater in any surface biome, most commonly in Sludge Plains biomes, within Mud. There are three varieties - Aqua, Crimson and Green.
Detection
Edit
Middle Gem Ores can be detected through blocks by using a Gem Singer.
Release 3.4.0:

Can now be detected with a Gem Singer.
Decreased generation.

Beta 1.0.0: Introduced.