Not to be confused with Deep Water Coral Blocks, similar coral blocks that are more blue.
Mire Coral Block

Transparency
No
Luminance
Yes
Blast Resistance
30.0
Tool
Any Pickaxe
Renewable
Yes
Stackable
Yes (64)
Flammable
No
Compostable
No
ID
mire_coral_block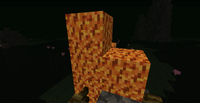 Mire Coral Blocks are craftable building blocks.
Release 3.3.9: Provides light again.
Beta 2.0.0:

Renamed to Mire Coral Block.
No longer provides light.

Beta 1.0.0: Introduced as Block of Mire Coral.