Mortar

Transparency
Yes
Luminance
No
Blast Resistance
15.0
Tool
Any Pickaxe
Renewable
No
Stackable
Yes (64)
Flammable
No
Compostable
No
ID
mortar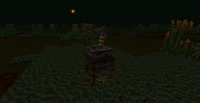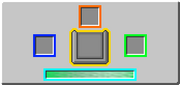 The Mortar is a craftable utility block that breaks down items into ground forms, primarily for the purpose of Herblore.
The grinding interface can be accessed by right-clicking the Mortar. Grinding requires the following items:
A Pestle, which must be placed in the Mortar either by right-clicking it directly onto the Mortar or placing it manually into the

middle slot

of the interface. As the Mortar grinds items, the Pestle will lose durability, and eventually it will break and need to be replaced.
The item that is to be ground, which is placed in the

left slot

of the interface.
Once these requirements are met, the Mortar must be left-clicked to begin grinding up the items. A progress bar will fill based on how much time is left before the process is complete. Each item takes around four seconds to be ground.
The Mortar must be left-clicked once for every item that is to be ground. However, this process can be automated with an adequately charged Life Crystal, which can either be right-clicked directly into the Mortar or placed manually into the upper slot of the interface. The Life Crystal will then grind as many items on its own as it can, and each item ground by the crystal will drain 0-1% of its charge.
While grinding, the Pestle inside the Mortar will spin to show it grinding the items, and a grinding sound will also play. The process will finish after the Pestle visibly crushes the items twice.
Once the grinding process is complete, the Pestle will have taken 1 use of durability damage, and the resulting item/s can be retrieved from the right slot of the interface.
To view all default grinding recipes, visit the Grinding page.
You can add your own grinding recipes in the recipes.json in the config.
grind:
Release 3.3.6: Is now activated with left-click, and GUI is opened with right-click.
Beta 2.0.2: Added recipes to API.
Beta 1.0.0: Introduced.
Community content is available under
CC-BY-SA
unless otherwise noted.