Octine Ore

Transparency
No
Luminance
Yes
Blast Resistance
30.0
Tool
Bone Pickaxe
or better
Renewable
No
Stackable
Yes (64)
Flammable
No
Compostable
No
ID
octine_ore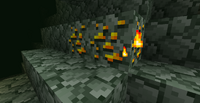 Octine Ore is an ore that spawns somewhat uncommonly underground in the lower parts of the upper Cavern layer, within Betweenstone. It can also drop somewhat rarely from Boulder Sprites.
Particles
Edit
Small fire particles will constantly emanate from Octine Ore.
Release 3.4.0: Now drops from Boulder Sprites.
Alpha 3.2.0:

Decreased generation rate.
Now only generates further down.

Beta 1.0.0: Introduced.