Peat

Transparency
No
Luminance
No
Blast Resistance
2.5
Tool
Hand or Shovel
Renewable
No
Stackable
Yes (64)
Flammable
No
Compostable
No
ID
peat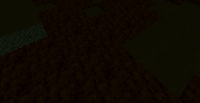 Peat is a plant-based block that generates in relatively large patches on the surface of Marsh biomes.
Plant Support
Edit
Peat supports the placement and growth of basic plants.
Movement
Edit
Peat slows down the movement of players and non-Betweenlands mobs by a small amount when walked over. This slowing can be negated by wearing Rubber Boots.
Betweenlands mobs are not slowed by Peat.
Igniting
Edit
Peat will sustain fire that is on top of it indefinitely, until it is removed through manual means. To first ignite it, one must use an Octine Ingot on either a placed or dropped block of Moss, Cave Moss, or Thorns resting on top of the Peat.
Placed Peat will take on an alternative texture during the Winter seasonal event.
Alpha 3.1.0: Now has an alternative texture for the Winter event.
Beta 1.0.0: Introduced.