Not to be confused with Scabyst Lined Pitstone, a decorative, craftable form of this block.
Pitstone

Transparency
No
Luminance
No
Blast Resistance
30.0
Tool
Any Pickaxe
Renewable
No
Stackable
Yes (64)
Flammable
No
Compostable
No
ID
pitstone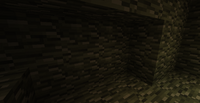 Pitstone is a stone block that generates abundantly underground in the Lake Cavern layer.
Plant Support
Edit
Pitstone supports the placement and growth of Cave Grass and Cave Moss.