Polished Dentrothyst Panes

Transparency
Yes
Luminance
No
Blast Resistance
1.5
Tool
None
Renewable
No
Stackable
Yes (64)
Flammable
No
Compostable
No
ID
polished
_dentrothyst_pane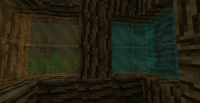 Polished Dentrothyst Panes are craftable, thin translucent blocks. There are two varieties - Green and Orange.
Collection
Edit
When harvested normally, Polished Dentrothyst Panes drop nothing. The blocks themselves must be harvested with a Silk Touch tool to be collected.
Alpha 3.2.0: Recipes now craft 16 panes.
Beta 2.0.0: The color is now before the word 'polished'.
Beta 1.0.0: Introduced, with the color after the word 'polished' for their names.