Pot of Chance

Transparency
No
Luminance
No
Blast Resistance
Regular Pot: 2.0
Tar Pot: 30.0
Tool
Regular Pot:
Hand or Pickaxe
Tar Pot:
Any Pickaxe
Renewable
No
Stackable
Yes (64)
Flammable
No
Compostable
No
ID
loot_pot
tar_loot_pot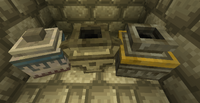 Pots of Chance are special blocks that can be found scattered in Caverns and Lake Caverns. They can also be found as part of Ruins, Underground Ruins, Tar Pool Dungeons, Cragrock Towers, and the Wight Fortress. There are three different visual variants, each of which has a Tar variant that can only be found at the bottom of the tar pools in Tar Pool Dungeons.
Collecting Loot
Edit
Each Pot of Chance spawns with a random item or two (can be stacked) already inside of it. When broken, it will drop whatever items are stored inside. Be careful, as there is a chance that breaking a pot will spawn a small Termite as well, which will proceed to attack.
Note that regular Pots of Chance can be broken by hand but are most effectively broken with a pickaxe, while Tar Pots of Chance require a pickaxe to be broken.
See the Loot Tables page for the loot that can be found in generated Pots of Chance.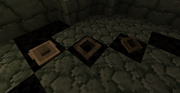 Alpha 3.2.0: Reduced regular pot hardness, now breaks faster with a pickaxe.
Beta 2.0.3: Reimplemented Tar Pots of Chance.
Beta 2.0.0: Now uses item textures when in inventory.

Temporarily removed Tar Pots of Chance.
Greatly reduced generation in Caverns.

Beta 1.0.2: Adjusted loot tables.
Beta 1.0.1: Reduced generation in Caverns.
Beta 1.0.0: Introduced.