Pressure Plates

Transparency
Yes
Luminance
No
Blast Resistance
Weedwood: 15.0
All Others: 30.0
Tool
Weedwood:
Hand or Axe
All Others:
Any Pickaxe
Renewable
Weedwood: Yes
All Others: No
Stackable
Yes (64)
Flammable
No
Compostable
No
ID
See Types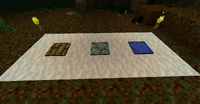 Pressure Plates in the Betweenlands act functionally the same as vanilla pressure plates.
This is the list of Pressure Plates available, their IDs, and their trigger functionalities:
Functionality
Edit
Like vanilla Pressure Plates, Betweenlands Pressure Plates are capable of detecting specific entities that are on top of them, outputting redstone current when doing so.
Weedwood Plank Pressure Plates can be used as fuel for the Sulfur Furnace or Dual Sulfur Furnace, smelting 1.5 items per pressure plate block.
Beta 2.0.0: Syrmorite Pressure Plate recipe changed.
Beta 1.0.0: Introduced.