Not to be confused with Swamp Dirt, the natural form of this block.
Purified Swamp Dirt

Transparency
No
Luminance
No
Blast Resistance
2.5
Tool
Hand or Shovel
Renewable
No
Stackable
Yes (64)
Flammable
No
Compostable
No
ID
purified
_swamp_dirt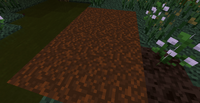 Purified Swamp Dirt is an artificially created soil block.
Right-clicking on Purified Swamp Dirt with a Betweenlands shovel will turn it into Dug Purified Swamp Dirt. This block is particularly useful in Farming due to its ability to grow crops while being immune to the effects of decay. Note that the block will revert back to regular Purified Swamp Dirt if it is left unfilled.
Beta 2.0.0: No longer drops from other dug purified blocks.
Beta 1.0.0: Introduced.