Repeller

Transparency
Yes
Luminance
No
Blast Resistance
5.0
Tool
Hand or Axe
Renewable
No
Stackable
Yes (64)
Flammable
No
Compostable
No
ID
repeller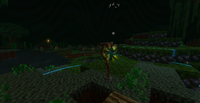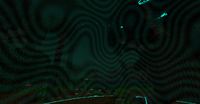 The Repeller is a craftable utility block that generates a repelling shield around an entire area, protecting it from dangerous mobs and projectiles.
How to Use
Edit
The Repeller must be right-clicked with a Shimmerstone in order to function. This will place the Shimmerstone inside the vial of the Repeller, and it will emit a shine effect. It can be taken out by shift right-clicking the Repeller with an empty hand, disabling its shield if it was active.
A Repeller with a Shimmerstone can then receive Byariis Aspect Vials as fuel by right-clicking. Once fuel is in the Repeller, it will create a wavy green and blue shield that expands quickly outward in all directions until it reaches its maximum distance and stops. Most hostile and neutral mobs that attempt to enter or are otherwise inside the shield will be pushed away and out of it automatically, but players are free to enter and leave it as they wish. Additionally, most projectiles inside of or attempting to enter the shield area will be automatically reflected out of it. While generating a shield, the Repeller will emit circles of rune particles that expand outwards and outline the shield's border.
The size of the shield can be configured by right-clicking the Repeller generating it with an empty hand. The default shield size is a radius of about 4 blocks, but it can be expanded to about 8, 13, and 17.5 block radii for even more expansive protection. Shields from multiple Repellers are capable of overlapping.
The Repeller can be filled with a maximum of 10.0 amount of Byariis Aspect as fuel, and will deplete it slowly over time. The rate at which the fuel depletes increases with larger shield sizes, as well as with more mobs attempting to breach the shield. The amount of fuel in the Repeller can be viewed physically in its vial. Should the Repeller be completely depleted of fuel, the shield will deactivate.
The Repeller does not repel Wights or boss mobs.
The Repeller can be used as fuel for the Sulfur Furnace or Dual Sulfur Furnace, smelting 1.5 items per repeller block.