Not to be confused with Rubber, the liquid form of this block, or Rubber Ball, the item form.
Rubber Block

Transparency
No
Luminance
No
Blast Resistance
1.0
Tool
None
Renewable
Yes
Stackable
Yes (64)
Flammable
No
Compostable
No
ID
rubber_block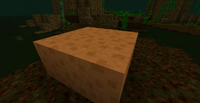 Rubber Blocks are craftable storage blocks for Rubber Balls.
Movement
Edit
When not jumping, Rubber Blocks slow down players and mobs that walk over them by a considerable amount. This slowing cannot be negated in any way.
Bouncing
Edit
Rubber Blocks bounce back players and mobs that jump on top of them at a fraction of their initial velocity, negating fall damage in the process. This bouncing effect can be canceled by holding Shift.