Rubber Tree Log

Transparency
Yes
Luminance
No
Blast Resistance
10.0
Tool
Hand or Axe
Renewable
Yes
Stackable
Yes (64)
Flammable
No
Compostable
No
ID
log_rubber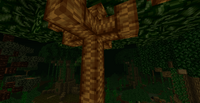 Rubber Tree Logs are the log blocks of Rubber Trees. They are half the width of regular blocks, similar in size to walls, and when placed next to each other, they will connect. They have two alternate states - a natural one and a cut one.
A Rubber Tree Log that is part of a natural or sapling-grown Rubber Tree can be right-clicked with any Bucket to place a Rubber Tap on it. The tap will fill with Rubber liquid over time, tapping at a different rate depending on the type of bucket used.
After the Rubber Tap fills completely, it can be removed by simply breaking it, yielding a Rubber Bucket of the corresponding bucket type which can then be smelted into three Rubber Ball for use in crafting. The tap's rubber can also be transferred to another bucket by simply right-clicking any empty Bucket type on the tap, leaving the tap on and draining it so it can tap more liquid rubber.
Rubber Tree Logs that have been cut and placed directly by the player cannot be tapped. They are a slightly darker color to indicate this.
Rubber Tree Logs can be used as fuel for the Sulfur Furnace or Dual Sulfur Furnace, smelting 1.5 items per log.
Placed natural Rubber Tree Logs will take on alternative textures during the Spook and Winter seasonal events.
Release 3.3.9: Now has alternative textures for the Spook and Winter events.
Beta 1.0.2: Now has a special texture when harvested and placed by the player.
Beta 1.0.0: Introduced.