Sap Tree Sapling

Transparency
Yes
Luminance
No
Blast Resistance
0.0
Tool
None
Renewable
Yes
Stackable
Yes (64)
Flammable
No
Compostable
Yes
ID
sapling_sap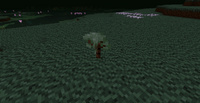 Sap Tree Saplings are the sapling blocks of Sap Trees. They have a chance to drop from decayed or harvested Sap Tree Leaves.
Planted Sap Tree Saplings will eventually grow into Sap Trees. Their growth can be expedited with Ground Dried Swamp Reed. They require a 13-by-13 space that is 17 blocks high in order to grow.
Compostability
Edit
Sap Tree Saplings have a compost process time of 9 minutes and 10 seconds and a compost amount of 15. Visit the Compost page for more information regarding the composting mechanic.