Silt

Transparency
No
Luminance
No
Blast Resistance
2.5
Tool
Hand or Shovel
Renewable
No
Stackable
Yes (64)
Flammable
No
Compostable
No
ID
silt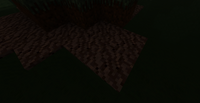 Silt is a block that generates rimming the edges of large water bodies in Swamplands and Patchy Islands biomes, usually as part of Silt Beaches.
Movement
Edit
Silt slows down the movement of players and non-Betweenlands mobs by a moderate amount when walked over. This slowing can be negated by wearing Rubber Boots.
Betweenlands mobs are not slowed by Silt.
Placed Silt will take on an alternative texture during the Winter seasonal event.
Alpha 3.1.0: Now has an alternative texture for the Winter event.
Beta 1.0.0: Introduced.