Sludge (block)
Transparency
No
Luminance
No
Blast Resistance
Tool
Hand/Shovel
Renewable
Stackable
Yes (64)
Flammable
No
Compostable
No
ID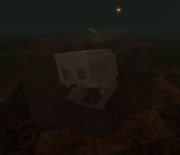 A trail of Sludge is left behind Sludges wherever they go. The player and mobs can get stuck in a Sludge Patch as it slows you down greatly and prevents you from jumping. Fortunately, after about a minute they will disappear.
When a shovel is used, Sludge Ball could be recovered from breaking trail of sludge.
Community content is available under
CC-BY-SA
unless otherwise noted.