Sludgy Dirt

Transparency
Yes
Luminance
No
Blast Resistance
2.5
Tool
Hand or Shovel
Renewable
No
Stackable
Yes (64)
Flammable
No
Compostable
No
ID
sludgy_dirt
spreading
_sludgy_dirt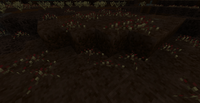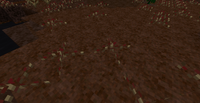 Sludgy Dirt is a cover block. It has a normal variant that generates in relatively large patches on the surface of Sludge Plains biomes, as well as a Spreading variant that generates from killed, naturally generating Spirit Trees.
Sludgy Dirt supports the placement and growth of basic plants.
Sludgy Dirt slows down the movement of players and non-Betweenlands mobs greatly when walked over, and prevents them from jumping as well. Unlike most other slowing blocks, there is no way to negate this slowing effect, not even with Rubber Boots.
Betweenlands mobs are not slowed by Sludgy Dirt.
If the Large Spirit Tree Face of a naturally generated Spirit Tree is killed, the tree will begin to die. The surrounding Swamp Grass of the tree will slowly convert into Spreading Sludgy Dirt, which acts the same as regular Sludgy Dirt but spreads to the rest of the Swamplands Clearing sub-biome that the tree generates in. This essentially turns the biome into a miniature Sludge Plains biome, capable of spawning Sludges and Smoll Sludges.
Sludgy Dirt drops Swamp Dirt when harvested. The blocks themselves must be harvested with a Silk Touch tool to be collected.
Placed Sludgy Dirt will take on alternative textures during the Spook and Winter seasonal events.
Release 3.4.0: Added Spreading variant.
Alpha 3.1.0: Now has an alternative texture for the Winter event.
Beta 1.0.0: Introduced.
Community content is available under
CC-BY-SA
unless otherwise noted.