Smooth Temple Brick

Transparency
No
Luminance
No
Blast Resistance
?
Tool
Any Pickaxe
Renewable
No
Stackable
Yes (64)
Flammable
No
Compostable
No
ID
NOTICE: This block has been temporarily removed in the latest version of the mod, and will be returning in a future update.
Smooth Temple Brick is a decorative block that will be found in 
Ancient Temples
.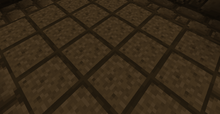 Beta 2.0.0: Temporarily removed.
Beta 1.0.0: Introduced.