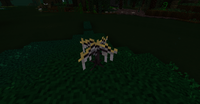 Spirit Tree Saplings are the sapling blocks of Spirit Trees. At least one will always drop from the Large Spirit Tree Face when killed, and up to five more can drop depending on the average strength level of the Spirit Tree determined by the Wisps surrounding it.
Growing
Planted Spirit Tree Saplings will eventually grow into smaller but friendlier versions of the naturally generating Spirit Trees. Their growth can be expedited with Ground Dried Swamp Reed.
Although these "lesser" Spirit Trees do not provide most of the usual rewards obtainable from the Spirit Tree, their growth spawns a friendly Small Spirit Tree Face that, instead of attacking the player, attacks nearby hostile mobs with spit balls. It may also drop up to three Sap Spit when fed Compost. The tree's leaves are also still capable of dropping Spirit Fruit.
Compostability
Spirit Tree Saplings have a compost process time of 9 minutes and 10 seconds and a compost amount of 25. Visit the Compost page for more information regarding the composting mechanic.
Notes
Unlike most Saplings, Spirit Tree Saplings cannot be obtained from the leaves of their corresponding tree. This means that more cannot be obtained from growing lesser Spirit Trees, and there are a limited number of them available per world, so use them wisely.
History