Sulfur Torch

Transparency
Yes
Luminance
Yes
Blast Resistance
0.0
Tool
None
Renewable
Yes
Stackable
Yes (64)
Flammable
No
Compostable
No
ID
sulfur_torch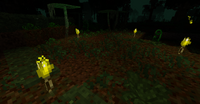 Sulfur Torches are craftable utility blocks that act as primary sources of light in the Betweenlands.
Placement
Edit
Sulfur Torches can only be placed on the top and side of most blocks. Breaking the block a Sulfur Torch is sitting on will cause the torch to break as well.
Particles
Edit
Yellow sulfur particles will emanate from the tips of Sulfur Torches. In addition, small particles resembling flies and moths will occasionally float around them.
Providing Light
Edit
Sulfur Torches provide the same amount of light as vanilla Torches. However, they do not become Damp Torches when placed in The Betweenlands, unlike vanilla Torches. They cannot be placed underwater.
Community content is available under
CC-BY-SA
unless otherwise noted.