Not to be confused with Coarse Swamp Dirt, a form of this block that does not support grass spreading, or Purified Swamp Dirt, an artificial form most useful in farming.
Swamp Dirt

Transparency
No
Luminance
No
Blast Resistance
2.5
Tool
Hand or Shovel
Renewable
No
Stackable
Yes (64)
Flammable
No
Compostable
No
ID
swamp_dirt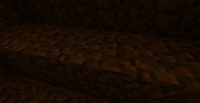 Swamp Dirt is the primary soil block of The Betweenlands. It generates predominantly in a small layer between the surface and underground layers in Patchy Islands, Coarse Islands, Marsh, and Sludge Plains biomes, as well as in patches in the upper Cavern layer and in Underground Oases. It also drops from Swamp Grass, Dead Grass, Coarse Swamp Dirt, Sludgy Dirt, Dug Swamp Grass, Dug Swamp Dirt, Dug Purified Swamp Grass, and Dug Purified Swamp Dirt, and can be derived from some of these blocks through various other methods.
Swamp Dirt supports the placement and growth of basic plants. In addition, it supports the spread of Swamp Grass.
Right-clicking on the top of Swamp Dirt with a Betweenlands shovel will turn it into Dug Swamp Dirt, which is used in Farming. Note that the block will revert back to regular Swamp Dirt if it is left unfilled.
Beta 2.0.2: Can now properly sustain non-Betweenlands plants.
Beta 1.0.0: Introduced.
Community content is available under
CC-BY-SA
unless otherwise noted.