Swamp Reed

Transparency
Yes
Luminance
No
Blast Resistance
0.0 (Normal)
500.0 (Underwater)
Tool
None
Renewable
Yes
Stackable
Yes (64)
Flammable
No
Compostable
No (Block)
Yes (Item)
ID
swamp_reed
swamp_reed_underwater
swamp_reed_item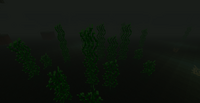 Swamp Reeds are plants that generate in the water in Patchy Islands and Coarse Islands biomes, and on land in Swamplands biomes.
Placement
Edit
Swamp Reeds can be placed on plant-supporting blocks that are either in or directly adjacent to Swamp Water, as well as directly above themselves. Breaking a lower part of a Swamp Reed growth will break all parts above it as well.
Coloration
Edit
Swamp Reeds take on different foliage colors depending on what biome they are located in.
Particles
Edit
Small particles resembling mosquitoes will occasionally float around Swamp Reeds.
Swamp Reeds will naturally grow upwards, and grow a third faster when underwater. They can grow up to four blocks high on land, but if underwater can grow infinitely up to the surface of the water, as well as three additional blocks into the air.
Collection
Edit
When harvested, Swamp Reeds drop a Swamp Reed (item), which can then be dried and ground into Ground Dried Swamp Reed or be used to replant the actual block.
Swamp Reeds themselves cannot be collected.
Compostability
Edit
Swamp Reed (item)s have a compost process time of 4 minutes and 10 seconds and a compost amount of 3. Visit the Compost page for more information regarding the composting mechanic.
Placed Swamp Reeds will take on alternative textures during the Spook and Winter seasonal events.
Alpha 3.1.0: Now has an alternative texture for the Winter event.
Beta 1.0.0: Introduced.
Community content is available under
CC-BY-SA
unless otherwise noted.