Syrmorite Hopper

Transparency
No
Luminance
No
Blast Resistance
24.0
Tool
Any Pickaxe
Renewable
No
Stackable
Yes (64)
Flammable
No
Compostable
No
ID
syrmorite_hopper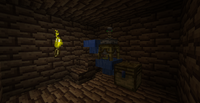 The Syrmorite Hopper is a craftable utility block that is the equivalent of the vanilla Hopper for the Betweenlands.
Item Transportation
Edit
Like a normal hopper, the Syrmorite Hopper is capable of accepting dropped or otherwise input items, as well as output items in utility blocks above it, such as Chests, Furnaces, the Purifier, the Mortar, the Infuser, and the Animator. It can store these items in up to five slots in its GUI, which can be accessed by pressing the 'use' key on the hopper.
The Syrmorite Hopper can then funnel these items into the appropriate slots in other utility blocks, allowing an efficient automation system to be constructed. The hopper supports inputting and outputting items from the various unique utility blocks of the Betweenlands, with the exception of primary ingredient inputs for the Purifier and Animator. Multiple hoppers can also be linked together to create a sort of 'pipe' for item transportation; however, this cannot carry items upwards.
The Syrmorite Hopper will refuse to receive or transport items when receiving a redstone signal, including from simple mechanisms the Betweenlands offers, such as Weedwood Levers.
Due to how Corrosion in the Betweenlands works, corrodable items that are inside any storage container, including a Syrmorite Hopper, will stop corroding, only resuming if they are taken out of the hopper.