Not to be confused with Solid Tar, the solid form of this liquid.
Tar

Transparency
No
Luminance
No
Blast Resistance
0.0
Tool
N/A
Renewable
No
Stackable
Yes (64)
Flammable
No
Compostable
No
ID
tar
bl_bucket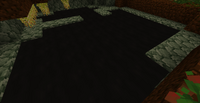 Tar is a liquid that generates occasionally in small pools on the surface of Swamplands and Sludge Plains biomes. It also generates as part of Tar Pool Dungeons.
Tar flows at a slower speed than most other liquids, although not as slowly as vanilla Lava, and has no current force. It significantly slows down most players and mobs swimming in it, and is easy to sink in as it is particularly difficult to swim up through. It is not capable of creating infinite source blocks.
Tar Beasts and Tar Minions are not slowed down by Tar.
Drowning
Edit
Tar will begin drowning most players and mobs as soon as they are completely submerged in it, without providing a breath meter. It deals 2 damage (

) per drowning tick, and ticks at a faster rate than other liquids. While completely submerged and drowning in Tar, the player's vision is blinded by a tar overlay.
Tar Beasts and Tar Minions cannot be drowned by Tar.
Upon contacting Swamp Water or Stagnant Water, Tar will form Solid Tar.
Tar Beasts
Edit
In Swamplands and Sludge Plains biomes, sufficiently sized pools of Tar are capable of spawning Tar Beasts, at varying rates.
Collection
Edit
Tar can be collected with a Weedwood or Syrmorite Bucket.
WaterAmbience:
Beta 2.0.0: Added Syrmorite Bucket variation.
Beta 1.0.0: Introduced.