Thorns

Transparency
Yes
Luminance
No
Blast Resistance
1.0
Tool
Hand or Axe
Renewable
Yes
Stackable
Yes (64)
Flammable
No
Compostable
Yes
ID
thorns
items_plant_drop/37
items_crushed/50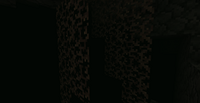 Thorns are dangerous vine-like plants that generate in groups underground hanging off of the ceilings of Caverns and Lake Caverns.
Placement
Edit
Thorns can only be placed on the side of most blocks. Breaking a higher part of the Thorn vine will break all parts below it that are not connected to a side block as well.
Thorns naturally grow down from blocks like Vines, and do not require additional side blocks to do so.
Pricking
Edit
A player or non-Betweenlands mob will take 1 damage (

) every 0.5 seconds while being in direct contact with Thorns. This damage can be reduced by Armour or entirely negated with a Toughskin Elixir.
Betweenlands mobs do not take damage from Thorns.
Collection
Edit
Thorns must be harvested with Syrmorite Shears to be collected. When harvested with a Sickle, they instead drop a Thorn Branch, which can then be ground into Ground Thorns.
Compostability
Edit
Thorns have a compost process time of 6 minutes and 40 seconds and a compost amount of 5. Visit the Compost page for more information regarding the composting mechanic.
Igniting
Edit
Thorns can be used to create fire by holding right-click on either their placed or dropped form with an Octine Ingot. Thorns that are adjacent to or on a Block of Octine will also catch fire, although this fire will not spread to further Thorn blocks.
Release 3.3.0: Is now burned by Blocks of Octine.
Beta 1.0.0: Introduced.