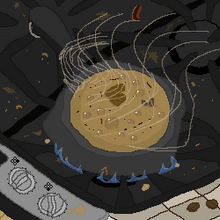 ~Official wiki editor/lore scrap writer/detail obsessed maniac for the Betweenlands.
Wiki Status: In the process of complete overhaul with redone infoboxes, new navboxes, more pics and gifs and clicks. Also, much of the 3.5.0 content is in need of doing or going over so that it fits wiki standards.
Items - ~90% done (everything except 3.5.0 content is done)
Blocks - ~90% done (most pages complete, some generated blocks and 3.5.0 content blocks need doing/redoing)
Mobs - ~30% (new infobox implemented, descriptions and pictures need redoing, some 3.5.0 mobs need pages)
Biomes and Structures - 50% (structures all done except Sludgeon, biomes need doing (may or may not include a new template))
Other Stuff (Mechanics, etc) - 5% done (some guide pages at least partially redone)
I am going through the entirety of the wiki at the pace that I can manage with my daily life. Recently there has been a lot more on my plate and I usually only have select days and times to maintain quality/update pages. Also, I've been experiencing some severe burnout with wiki editing and I have other interests besides Betweenlands that I may choose to/need to put more focus towards.
Any page that I have not recently gone over is highly subject to change as many of them have issues that I need to sort (which I've been wanting to do for way too long now).
Also, please do not add content that has been deleted in the past. It was deleted for a reason.
Nonexistent Backstory
Community content is available under
CC-BY-SA
unless otherwise noted.