Weedwood Bush

Transparency
Yes
Luminance
No
Blast Resistance
1.75
Tool
Hand or Axe
Renewable
Yes
Stackable
Yes (64)
Flammable
No
Compostable
Yes
ID
weedwood_bush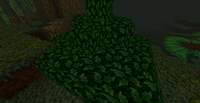 Weedwood Bushes are plant blocks that generate in patches in Swamplands and Coarse Islands biomes.
Coloration
Edit
Weedwood Bushes take on different foliage colors depending on what biome they are located in.
Movement
Edit
Players are capable of standing in Weedwood Bushes and walking through them at a slowed speed. This allows them in certain cases to hide from attacking mobs, as most cannot travel through the bush themselves. Note that moving through a bush creates bursts of leaf particles and loud rustling noises, which may attract another player's attention.
Geckos are capable of fleeing into and hiding inside Weedwood Bushes. They will come out after 2 minutes of being undisturbed, or if the bush block they are hiding in is destroyed.
Collection
Edit
When harvested normally, Weedwood Bushes drop Weedwood Sticks.
Weedwood Bushes themselves must be harvested with Syrmorite Shears to be collected.
Weedwood Bushes will grow to adjacent blocks when on top of composted Dug Swamp Dirt, Dug Swamp Grass, Dug Purified Swamp Dirt, or Dug Purified Swamp Grass. However, their growth will halt if the composted block they are growing on becomes decayed, or if its compost is depleted after enough harvests.
Compostability
Edit
Weedwood Bushes have a compost process time of 10 minutes and a compost amount of 20. Visit the Compost page for more information regarding the composting mechanic.
Placed Weedwood Bushes will take on alternative textures during the Spook and Winter seasonal events.
Release 3.3.7: Can now be grown and farmed with composted blocks.
Release 3.3.0: Now have biome coloration.
Alpha 3.2.0:

Increased generation rate.
Can now be walked through by players.

Alpha 3.1.0: Now have an alternate texture for the Winter event.
Beta 1.0.0: Introduced.