Weedwood Chip Path

Transparency
Yes
Luminance
No
Blast Resistance
2.5
Tool
Hand or Axe
Renewable
Yes
Stackable
Yes (64)
Flammable
No
Compostable
No
ID
wood_chip_path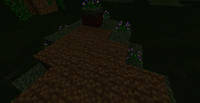 Weedwood Chip Paths are craftable, thin building blocks.
Placement
Edit
Weedwood Chip Paths can only be placed on the top of most blocks. Breaking the block a Weedwood Chip Path is sitting on will cause the path to break as well.
Movement
Edit
Weedwood Chip Paths provide Speed II (

) to players that walk over them. This makes them very useful for traversing terrain more quickly.
Weedwood Chip Paths can be used as fuel for the Sulfur Furnace or Dual Sulfur Furnace, smelting 1.5 items per path block.
Beta 2.0.1: Reintroduced and renamed to Weedwood Chip Path.
Beta 2.0.0: Temporarily removed.
Beta 1.0.0: Introduced as Woodchip Path.