Weedwood Crafting Table

Transparency
No
Luminance
No
Blast Resistance
12.5
Tool
Hand or Axe
Renewable
Yes
Stackable
Yes (64)
Flammable
No
Compostable
No
ID
weedwood
_workbench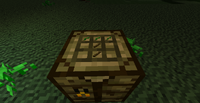 The Weedwood Crafting Table is an important craftable utility block that is the equivalent of the vanilla Crafting Table for the Betweenlands.
How to Use
Edit
The crafting interface can be accessed by right-clicking the Weedwood Crafting Table. Crafting works nearly identically to crafting in a vanilla Crafting Table, featuring the usual three-by-three grid, output slot, and recipe book option. However, unlike the vanilla Crafting Table, the Weedwood Crafting Table will keep items inside its interface even when no players are using it. These items will also be rendered visibly on top of the table, arranged in the same fashion as they are in the crafting grid.
Due to how Corrosion in the Betweenlands works, corrodable items that are inside any storage container, including a Weedwood Crafting Table, will stop corroding, only resuming if they are taken out of the table.
Crafting Recipes
Edit
To view all default crafting recipes, visit the Crafting page.
The Weedwood Crafting Table can be used as fuel for the Sulfur Furnace or Dual Sulfur Furnace, smelting 1.5 items per table block.
Advancement
In-game Description
Parent
Actual Requirements
ID

All Over Again
Create a Weedwood Crafting Table
Getting Harder Wood
Have a Weedwood Crafting Table in your inventory
craftsman
/all_over_again
Community content is available under
CC-BY-SA
unless otherwise noted.