Weedwood Jukebox

Transparency
No
Luminance
No
Blast Resistance
30.0
Tool
Hand or Axe
Renewable
No
Stackable
Yes (64)
Flammable
No
Compostable
No
ID
weedwood_jukebox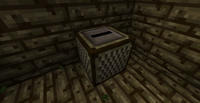 The Weedwood Jukebox is a craftable utility block that is capable of playing the various Music Discs from the Betweenlands.
Playing Music
Edit
Similarly to the vanilla Jukebox, the Weedwood Jukebox can be right-clicked with any Music Disc from the Betweenlands to put it inside and play it. Right-clicking the Weedwood Jukebox again afterwards will take the Music Disc out of it and stop the music.
The Weedwood Jukebox is not able to play vanilla Music Discs. Likewise, the vanilla Jukebox is not able to play Betweenlands Music Discs.
The Weedwood Jukebox can be used as fuel for the Sulfur Furnace or Dual Sulfur Furnace, smelting 1.5 items per jukebox block.
As an easter egg, Gert's Donut can actually be put into the Weedwood Jukebox as if it were a music disc. Rather than playing any sort of track, the jukebox will consume all of the donuts in the stack and simply say "DOH!" above the hotbar. Do not fret, for the donuts can be retrieved from the jukebox again.