Not to be confused with Weedwood, the inner layer of Weedwood Trees.
Weedwood Log

Transparency
No
Luminance
No
Blast Resistance
10.0
Tool
Hand or Axe
Renewable
Yes
Stackable
Yes (64)
Flammable
No
Compostable
No
ID
log_weedwood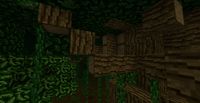 Weedwood Logs are the outside layer log blocks of Weedwood Trees and Giant Weedwood Trees, as well as their roots and branches. They can also be found as part of Marsh Ruins. They have a normal rotatable variant and a variant with bark on all sides, both of which can be ground into Ground Weedwood Bark.
| Result | Ingredients | Recipe |
| --- | --- | --- |
| Corresponding Weedwood Log (4) | Matching Weedwood Log (4) | |
Either variant of Weedwood Log can be used as fuel for the Sulfur Furnace or Dual Sulfur Furnace, smelting 1.5 items per log.
Placed Weedwood Logs will take on alternative textures during the Spook and Winter seasonal events.
Release 3.3.0: Made full bark variant obtainable.
Alpha 3.1.0: Now has an alternative texture for the Winter event.
Beta 2.0.0:

Now generates on all outside parts of the tree, taking on a full bark texture on the main trunk, replacing Weedwood Bark.
Now used instead of Weedwood Bark to make Ground Weedwood Bark.

Beta 1.0.0: Introduced.