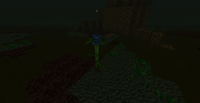 Weeping Blues are double-tall plants that generate uncommonly in Marsh biomes, as well as in Underground Oases.
Particles
Small water particles will drip from Weeping Blues, as if they are literally weeping.
Collection
When harvested normally, Weeping Blues drop 1-2 Weeping Blue Petals, which can be consumed to restore decay.
Weeping Blues themselves must be harvested with Syrmorite Shears to be collected.
Growing
Weeping Blues will grow to adjacent plant-supporting blocks when on top of composted Dug Swamp Dirt, Dug Swamp Grass, Dug Purified Swamp Dirt, or Dug Purified Swamp Grass. However, their growth will halt if the composted block they are growing on becomes decayed, or if its compost is depleted after enough harvests.
Compostability
Weeping Blues have a compost process time of 9 minutes and 10 seconds and a compost amount of 15. Visit the Compost page for more information regarding the composting mechanic.
History
Release 3.3.0: Added Advancements.
Beta 2.0.0: Can now be grown and farmed with composted blocks.
Beta 1.0.0: Introduced.